Kevin Sheehan
Founder, CEO
Kevin is a serial entrepreneur with experience across retail, real estate and others. He created Hear Music – an innovative music retail company, acquired by Starbucks. He received his MBA from Harvard where he was named the 'Entrepreneur of the Year'.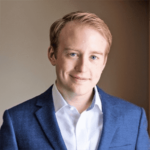 Ethan Lyle
Founder, VP Strategy
Ethan's breadth of experience spans government, business, politics, and philanthropy. Previously, Ethan was a corporate advisor to the C-suites for large organizations, where he led executive thought leadership, strategic communications, and media/investor relations.