Kevin Sheehan
Founder, CEO
Kevin Sheehan is an award-winning entrepreneur who has created several international brands that have had significant impact in diverse segments. He created Hear Music – an innovative music retail company, acquired by Starbucks. He received his MBA from Harvard where he was named 'Entrepreneur of the Year and a BA from Yale.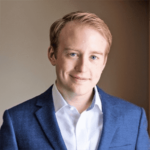 Ethan Lyle
Founder, VP Strategy
Ethan's experience spans government, business, politics, and philanthropy. Previously, Ethan was a corporate advisor to the C-suites of Fortune 500 companies. Ethan also led world-renowned Harvard education simulations in Boston, China, and India.